Sunday, October 22nd. 2pm
Janet Monge – 'Forensic Anthropologist'
Could history's two most notorious killers actually be the same man?
H.H. Holmes, America's first recorded serial murderer, and Jack the Ripper.
$5.00 admission
Light refreshments
---
Sunday, November 12th. 3pm
Bill and Frank Watson "Update on Duffy's Cut"
Grandfather's ghost story leads to mysterious mass grave in Malvern, PA
What really happened to the 57 Irish Immigrants who came
over to work on the Pennsylvania Columbia Railroad?
$5.00 admission
Light refreshments
---
Sunday, December 10th. 2pm. – 4pm.
Reading of The Night Before Christmas
And a special visit by Mr. & Mrs. Claus.
Bring your Kids
Donations accepted
Light refreshments
---
2017 Quartley Meetings:
All meetings start at 7pm. at the Darley House,
Phila. Pike and Darley Road, Claymont, DE
All are welcome to come.

Meeting dates:


March 7th
June 6th
Sept. 5th
Dec. 5th
---
The Claymont Historical Society recognizes Atonement United Methodist church in
serving the Claymont Community and beyond for 150 years 1866-2016.
Plaque was presented by Carol Brady to Pastor John Hornberger.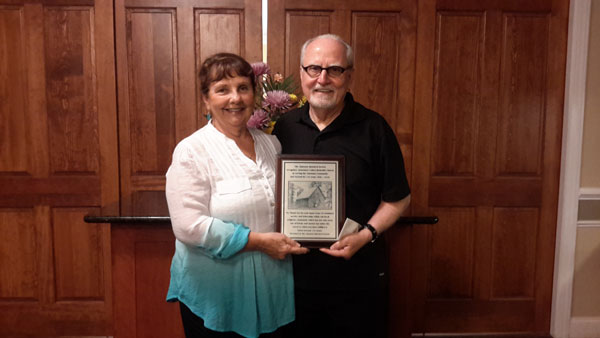 ---
Claymont Sports memorabilia, which was
displayed at the Claymont Public Library
during the month of June
---
| | | |
| --- | --- | --- |
| | The Claymont Historical Society sponsored a month-long exhibit in the Claymont Public Library commemorating women from Claymont who served in the Armed Forces. | |
---
Claymont Historical Society sponsored a special assembly at Claymont Elementary School on February 29 at which performer Matthew Dodd, told fifth-graders about the Civil War through the songs which were popular in the North and South at the time.
---
Some Photos from the Songs by Sinatra event
that was on November 12, 2015
---
Dedication of portraits of Colonel and Mrs. Robinson
done by Cephas Thompson in 1814.
They are on loan to the CHS and may be seen at the Robinson House.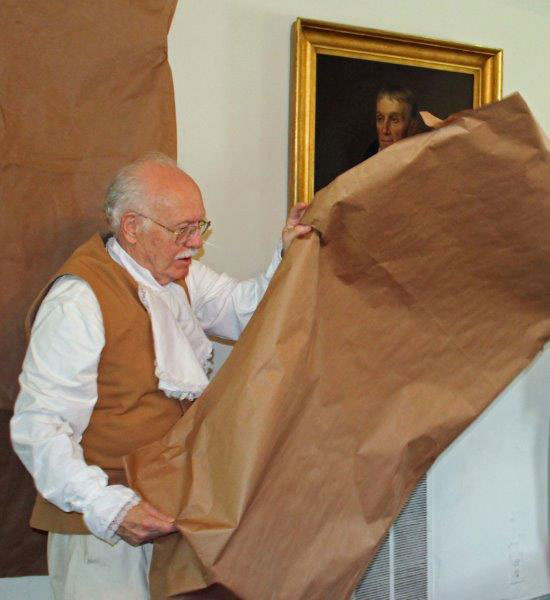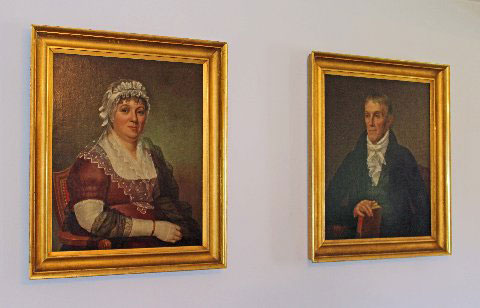 ---
Below are some photos of the visit by a class from the
Osher Lifelong Learning Institute to the Darley House where
Carolyn gave a talk on the history of Claymont landmarks